After
my long run on Saturday (in which I broke in my beautiful shoes!)
, I headed straight home to refuel (meaning: eat the entire contents of my fridge) and headed to tennis. The first time I'd played tennis since May of 2011, it had been about 7 months and I was nervous. I do this every year (take more than half the year off) so it's not a new occurrence that I have to get back into semi-tennis-shape prior to the USTA season starting in the spring, but I wasn't really looking forward to it.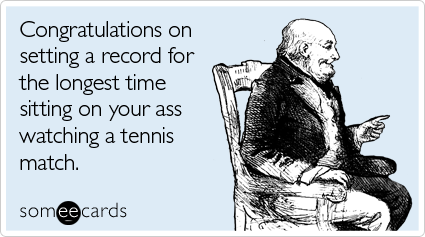 Did you watch the Australian Open's Men's Final this weekend?! Longest Grand Slam final EVER! Epic.
To my surprise, I actually had a great time! The first hour and a half was lovely - I was definitely the weakest link (we played doubles, and I'm a singles player to begin with, so my volleys and overheads aren't that great even when I've been practicing!), but I also wasn't atrocious. But after that 90 minutes was up (we played for 2 hours and 15 minutes), the fatigue hit and I wanted to be done so bad. My whole body just felt exhausted and I started playing worse and worse. Today, two days later, in perfect
DOMS
fashion, I. Am. SO. Sore. Everywhere. My forearms, glutes, sides of my feet, and weird random calf tendons are in the most pain. Let me show you where it hurts:
Too graphic? I hope not! Do you like my drawing of a tennis racket? I worked hard on that.
On Sunday I met the girls for book club at the adorable Alki Cafe up on Alki Beach in West Seattle. Beautiful views, great company, and a delicious "Cafe Benedict" (eggs benedict with a twist: on a crab cake with a cheesy sauce) made the morning fabulous. We read
Story of Beautiful Girl
by Rachel Simon for this month and I loved it. Have you read it? I highly recommend it. It took about 50 pages to get into it, but after that I was so hooked I read it in 2 days. It kind of reminded me of
The Memory Keeper's Daughter
(but better) and
The Vanishing Act of Esme Lennox
(I also HIGHLY recommend that book). If anyone wants to read along next month's book is:
The Girl Who Chased The Moon
by Sarah Addison Allen - read it by March 11th!