So my Track Tuesday attempt totally failed this week (uh, I ran ONE total lap around the track) because my legs were so ridiculously sluggish and heavy, so since I don't have anything to say about that, let's talk about two of my favorite topics: dogs... and books!
Anyone who has read more than one of my blog posts or known me for more than half a day knows I love and am obsessed with dogs. Am I completely enamoured with my adorable wonderful sweet precious pup Cooper? Undoubtedly. But I also fawn over the neighbor's Bernese mountain dog, slip treats to our friend's yellow lab Frankie, and trip on merchandise to point out puppies at Home Depot (yes I ended up on the floor and yes that really happened, ask my embarrassed father and husband).
Meet Frankie. My 2nd favorite dog ever. He's Boot Goofin'. Isn't he adorable?
So I love a good dog book. Unfortunately, because of the shorter life span of a dog's life (don't even get me started on the anxiety this type of thought causes me), dog books unfortunately usually include the dog's death, making 99.9% of such books "tear jerkers". One such book is
Marley & Me
by John Grogan, a book I liked when I read it but hated when I watched the movie. Do not, I repeat do NOT watch
Marley & Me
on the first Christmas Day you've ever been away from your family because of a freak ice storm. You and your husband will be sobbing uncontrollably and it will ruin your day.
The movie has totally tainted the book for me, but you might give
Marley & Me
a try if you promise not to watch the movie.
Inside of a Dog
by Alexandra Horowitz is another one you might try if you love non-fiction. It was fascinating and really interesting research, but non-fiction just isn't for me.
I just finished
A Good Dog
by Jon Katz, and I have to say I was sadly not impressed. A memoir, the true story chronicles Jon's life with Orson, a troubled border collie seeking to find his life's "work" (since border collies, a working breed, generally need work to do). I never felt particularly attached to nor moved by either Jon or Orson, and although a short read already, I looked forward to the end of the book. Two stars. Recommended if you love border collies or troubled dogs.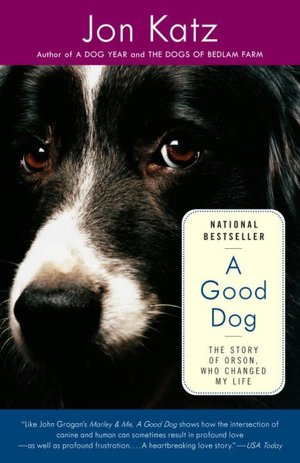 Now if you want some really great dog reads, I HIGHLY recommend
A Dog's Purpose
by W. Bruce Cameron or
The Art of Racing in the Rain
by Garth Stein. LOVED both of these books and I bet you will too!
Now go adopt some puppies and read some dog books!
Awww, what a cute submarine.
Have any other good dog books to add to this list? Do you have dogs? Are you as obsessed as I? People say I'll stop being so obsessed with Cooper if I have a "real" child, but I a) disagree, and b) Cooper IS a REAL child!